Will financial reform end big bank bailouts?
Lawmakers are pledging to end bailouts in the financial reform bill that the Senate is considering now. But many experts say bank bailouts can and will occur again.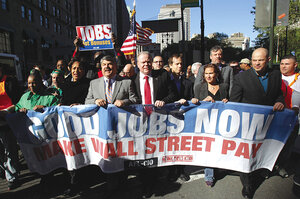 Mike Segar/Reuters
"Orderly liquidation." The words appear prominently in financial reform bills to overhaul the way the US government will regulate America's financial system in the aftermath of a near-meltdown in late 2008.
The idea is that if a large firm gets into trouble in the future, it can't expect any generous taxpayer bailouts, as happened at American International Group (AIG) and other firms. Rather, if a large bank takes big risks that go awry, regulators will preside over its dismemberment with steely resolve.
That, at least, is the simple message lawmakers say they want to send with legislation that's moving into its second week of Senate floor debate.
President Obama, too, has been pledging an end to bailouts. "That's what this reform does," he said recently of the Senate bill.
But regulating the vast financial system is anything but simple, and many experts say bank bailouts can and will occur again, even if Mr. Obama ends up signing a reform bill by midyear.
A basic problem lies in that phrase, "orderly liquidation." In the heat of a financial crisis, that's something very hard to do with a large and interconnected financial firm on the brink of failure.
---