Climate-energy bill debuts in Senate, but prospects are dim
A climate-energy bill – one intended to appeal to enough factions to proceed through the Senate – was unveiled Wednesday after months of negotiations. But it recently lost its Republican sponsor, complicating its future.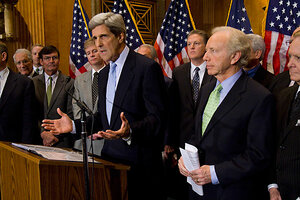 Harry Hamburg/AP
Nearly a year after the House of Representatives approved a comprehensive climate-energy bill, two US senators on Wednesday unveiled their own plan for weaning America off fossil fuel and slashing carbon emissions tied to global warming.
After intense behind-closed-doors discussions with fellow senators since last fall, Sens. John Kerry (D) of Massachusetts and Joe Lieberman (I) of Connecticut released details of the bill to mixed reviews. Its sole Republican co-author, Sen. Lindsey Graham of South Carolina, long under pressure from party leaders to withdraw from negotiations, dropped out of the trio last month.
The bill's prospects are uncertain, at best. Some analysts give it less than a 50 percent chance of passage now that Senator Graham has withdrawn his support. Moreover, it includes provisions for new offshore oil drilling – a concession meant to enlist certain senators' backing – but the Gulf oil spill has made that aspect of the legislation a "political toxin," says Kevin Book, an energy expert with ClearView Energy Partners.
---