Obama in Buffalo: tax reform is needed, but a flat tax isn't
President Obama told a town-hall meeting in Buffalo, N.Y., that the US will need to rein in its deficit soon, and that could include 'hard decisions' on tax reform. But he opposes the flat tax.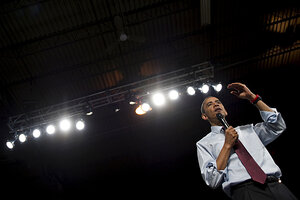 Jim Watson/AFP/Newscom
President Obama said the nation must make "hard decisions" on tax policy, and that it would be better to find a fiscal fix in the next couple of years than to delay.
He avoided the hottest part of this hot-button topic: He didn't say whether he'd support tax hikes that may be recommended by a bipartisan fiscal commission he has created. (He has said all options should be "on the table" for the commission to consider.)
But in response to a town-hall questioner, Mr. Obama voiced support for efforts to streamline the tax code, even as he framed the case against a "flat tax" that many Republicans support.
The president spoke at a town hall meeting in Buffalo, N.Y., a day after the federal government reported an unexpectedly high monthly budget deficit. The Treasury Department reported an $82.69 billion deficit for April, the highest ever recorded for that month.
"We're going to have to spend the next couple of years making some very hard decisions," Obama said. "It's not going to be any fun. [But] it's not going to be as painful as it will be if we put it off."
Deficits at unsustainable levels
The fiscal commission is expected to report to the president in December with recommendations on how to reduce US budget deficits. Without some new fix, budget deficits under Obama's forecasts would remain higher than 3 percent of gross domestic product every year this decade – a level economists see as unsustainable in the long run.
---