Arkansas primary a crucible for Blanche Lincoln, centrist politics
The Arkansas primary on Tuesday is a test for the centrist stance of incumbent Sen. Blanche Lincoln, a Democrat. Runoffs may be needed in both the Democratic and Republican contests.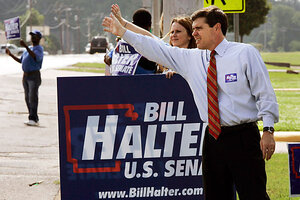 Danny Johnston/AP
Can a centrist senator survive in this pugilistic day of "pick a side"?
Sen. Blanche Lincoln of Arkansas, a moderate Democrat who hemmed and hawed over President Obama's health-care reform before finally voting in favor of it, will get at least a partial answer on Tuesday, after the Arkansas primary. Her best hope is that she'll live to fight another round. Her worst nightmare: She'll be out early, bested in the Democratic primary by Lt. Gov. Bill Halter, who is running decidedly to her left.
The outcome is complicated by the presence of a late-breaking third candidate, D.C. Morrison, who describes himself as a "conservative Democrat." If he shaves off enough votes to prevent either the incumbent or the lieutenant governor from winning a majority, Lincoln and Halter would face off in a June 8 runoff.
So far, the lesson for Senator Lincoln, a cofounder of the fiscally conservative coalition of Blue Dog Democrats, is that it's lonely in the middle. Heading into the race, she was considered one of the Senate's weakest incumbents.
"She was perceived as vulnerable because of her deliberate efforts to maintain a centrist posture in an increasingly polarized era," says Hal Bass, a political scientist at Ouachita Baptist University in Arkadelphia, Ark. "She drew fire from purists on both ends of the ideological spectrum, not only in Arkansas, but nationally. Despite strong party establishment support, she found relatively few fellow moderates in the electorate rising strongly to her defense."
---