What? Michelle Obama isn't America's favorite first lady?
A recent poll asked Americans to pick their favorite first lady since 1974. It's a tie – one from a Republican and one from a Democratic administration. Hint: First names start with 'N' and 'H.'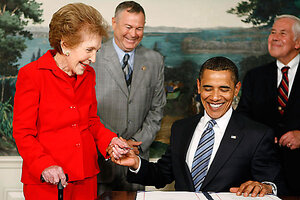 Kevin Lamarque/Reuters
Someone may want to tell Secretary of State Hillary Rodham Clinton as she globe-trots on behalf of President Obama's foreign policy that Americans pick her as one of their favorite first ladies.
Secretary Clinton ties with Nancy Reagan in a new national poll by Angus Reid Public Opinion in New York that asks Americans to name their favorite first lady since 1974. Clinton and Mrs. Reagan finish tied for first place at 19 percent each, with current first lady Michelle Obama coming in second at 15 percent. Laura Bush follows with 12 percent.
"The irony of this is that Hillary and Nancy were the two first ladies of modern times to be a political liability for their husbands," says Robert Watson, a scholar of US first ladies at Lynn University in Boca Raton, Fla. "They are the only two first ladies who were not more popular than their husbands when they were in office."
But first ladies Reagan and Clinton have both risen recently in the public's estimation, he adds, first as their respective husbands have gained in public stature, but then in their own right.
She ought to be an advocate
The online survey of 1,016 Americans, conducted in early May, did not ask respondents to explain their choices. But an accompanying finding of the poll –that Americans want first ladies who are strong advocates for certain causes during their time in the White House – may help explain the poll's results.
---