Obama helps Sen. Barbara Boxer build war chest for reelection fight
Sen. Barbara Boxer (D) of California is battling an anti-incumbent mood, tough economic times, and her image as the quintessential California liberal. President Obama is raising funds.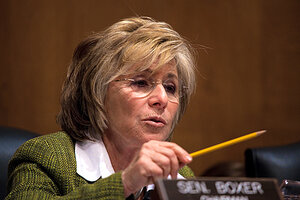 Newscom
In her reelection six years ago, Sen. Barbara Boxer (D) of California was a political powerhouse. As her political biography boasts, "Elected to a third term in 2004, she received more than 6.9 million votes, the highest total for any Senate candidate in American history."
But times have changed, and now the feisty Boxer, who started her political career in super-liberal Marin County, is scrambling to win a fourth term – in "her toughest election ever," as Larry Sabato, director of the Center for Politics at the University of Virginia, puts it.
Nowhere is the race being watched more closely than the White House, which hopes to hold on to as many Democratic House and Senate seats as possible come November. President Obama is scheduled to headline fundraisers for Boxer Tuesday – first a reception at San Francisco's Fairmont Hotel, then dinner at the home of billionaire Gordon Getty. The goal is to raise $1.5 million.
---