Senate Republicans unmoved by Obama visit: 'We were props'
President Obama hoped to reach out to Senate Republicans in a meeting Tuesday. But 'we simply have a large difference of opinion,' one said.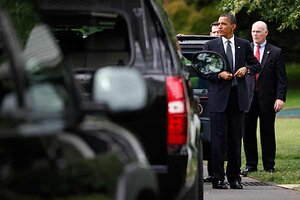 Carolyn Kaster/AP
In a rare move, President Obama appeared before the Senate Republican caucus Tuesday to ask for help moving the remaining big items on his agenda this year: jobs, immigration reform, energy legislation, the START nuclear proliferation treaty, and a timely confirmation of Supreme Court nominee Elena Kagan.
"He's a very ambitious guy," said Sen. Mike Johanns (R) of Nebraska, after the closed meeting just off the Senate floor that attendees described as ranging from cordial to "spirited" or tense.
While it's not uncommon for presidents to invite members of the opposition to the White House, it's unusual for presidents to face the lions on their home turf. The lions emerged from the meeting unconvinced.
"We were props today as we move into an electoral cycle," said Sen. Bob Corker (R) of Tennessee, who complained that White House officials derailed bipartisan negotiations over financial reform legislation in the Senate Banking Committee.
---
Follow Stories Like This
Get the Monitor stories you care about delivered to your inbox.