Counting the votes: Enough to repeal 'don't ask, don't tell'?
It appears as if Democrats will rally enough votes in the House to pass a repeal of 'don't ask, don't tell.' The situation in the Senate is less clear, though the bill seems set to get through committee.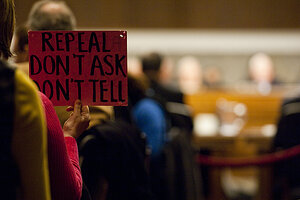 Scott J. Ferrell/Congressional Quarterly/Newscom/File
Even as House Republicans prepare to mount a forceful defense of "don't ask, don't tell," which bans gays from the military, analysts say it's likely the repeal amendment will pass in the House.
Congress may vote as early as Thursday on an amendment by Rep. Patrick Murphy (D) of Pennsylvania to the Defense Authorization Bill, which would reverse the ban on gays in the military but delay repeal implementation until the Pentagon finishes its review of the proposed measure.
President Obama and Secretary of Defense Robert Gates have both tepidly backed the proposal, but its passage hinges upon sufficient "yes" votes in the House and Senate.
Many Republican lawmakers – including some of the GOP's leading voices on defense – are poised to vote against the repeal.
Counting the votes: Enough to pass?
Among them is Rep. Buck McKeon (R) of California, the ranking Republican on the House Armed Services Committee.
---