Obama press conference: 'anger and frustration' over oil spill
The president defended his administration's performance. But the Obama press conference comes as a Gallup Poll finds public dissatisfaction with the handling of the crisis.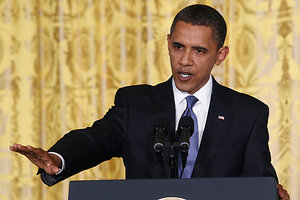 Kevin Lamarque/Reuters
President Obama rejected criticism Friday of his handling of the Gulf of Mexico oil spill disaster, saying, "This has been our highest priority since this crisis occurred."
It has been more than five weeks since an oil rig leased by BP exploded and sank in the Gulf, and only now does there appear to be progress in plugging the massive leak. Speaking in a more than hour-long press conference in the East Room, Mr. Obama defended his administration's performance and said he was "angry and frustrated" by the spill.
"This notion that somehow the federal government is sitting on the sidelines and for the last three or four or five weeks we've just been letting BP make a whole bunch of decisions is simply not true," Obama said.
IN PICTURES: Louisiana oil spill
At the Obama press conference, the president said that the US government is in charge of making sure the response is "appropriate" and that BP bears financial responsibility. Obama also announced an additional six-month moratorium on exploratory deepwater drilling, suspension of planned exploration of two locations off Alaska's coast, and the cancellation of oil-lease sales in the Gulf of Mexico and off Virginia's coast.
Obama acknowledged the political dimension of the disaster – then said, "but that's not what I care about right now."
---