Obama, Arizona Gov. Brewer face off over illegal immigration
At a White House meeting Thursday, Arizona Gov. Jan Brewer plans to urge Obama to boost the federal role in attacking illegal immigration. The president has already made clear his objection to her state's tough new law to root out illegal immigrants.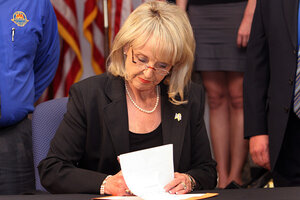 Aurlia Ventura/La Opinion/Newscom
The heated national debate over immigration reaches the Oval Office Thursday, as President Obama sits down with Arizona Gov. Jan Brewer (R).
Governor Brewer, who in April signed a tough new law that allows Arizona law enforcement personnel to check the immigration status of people reasonably suspected to be in the country illegally, found out Wednesday that she would be seeing the president. The governor is in town for a meeting of the Council of Governors, a 10-person panel Mr. Obama appointed her to in January that advises the president on homeland security.
Brewer says she looks forward to seeing the president face-to-face and making her case for beefed-up federal involvement in Arizona's difficult border situation, where kidnapping, drug trafficking, and continuing illegal immigration have heightened a sense of crisis in the state.
IN PICTURES: The US-Mexico border
"I think it's important to not only the state of Arizona but to all of America that we are able to tell him exactly what is taking place down there in Arizona and that we need to have our borders secured," Brewer told Fox News Wednesday night. "And we need to have the federal government do their job."
---