Gulf oil spill: Is Obama really mad now?
Democrats have been desperate for President Obama to find his inner Bill Clinton – to convey to people that he really gets their anguish and trauma. Did he do it in Louisiana Friday?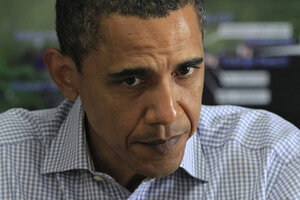 Charles Dharapak/AP
President Obama lit into the BP oil company Friday during a visit to Louisiana, complaining about the firm's $50 million in spending "to manage their image" during the oil spill disaster and a plan to pay out $10 billion in dividends this quarter.
The president said he didn't have a problem with BP fulfilling its legal obligations. "But I want BP to be very clear," he said, showing a flash of anger, "they've got moral and legal obligations here in the Gulf, toward the damage that has been done."
"And what I don't want to hear is, when they're spending that kind of money on their shareholders and spending that kind of money on TV advertising, that they're nickel-and-diming fishermen or small businesses here in the Gulf who are having a hard time," Mr. Obama continued.
The president has faced stinging public criticism in recent days that he has not been showing enough anger about the BP oil spill in the Gulf of Mexico. Friday's appearance seemed to counter that a bit.
Just the day before, contrast between Obama and Louisiana Gov. Bobby Jindal (R) could not have been more stark: Obama asserted that he was "furious" over the oil disaster, but his tone was measured. Governor Jindal, meanwhile, was visibly agitated and passionate as he slammed the CEO of BP for "idiotic" statements.
These two scenes – Obama appearing on CNN's Larry King Live and Jindal speaking to reporters in Grand Isle, La. – captured the diverging narratives of two key political figures embroiled in the largest oil spill in US history.
---