Why is Obama still pushing health-care reform?
President Obama is still trying to win over public opinion on health-care reform. On Tuesday, he told Maryland seniors that $250 checks aimed at plugging the 'doughnut hole' in prescription drug coverage hit the mail June 10.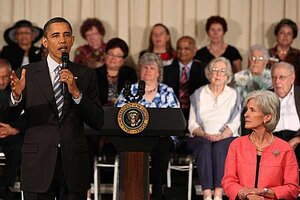 Larry Downing/Reuters
Health-care reform has been the law of the land since March 23. So why is President Obama continuing to promote it?
On Tuesday, Obama held a town hall meeting on health care at a Maryland senior center. He talked about the $250 check the newly-passed legislation will send to seniors who fall into Medicare's "doughnut hole" gap in prescription drug coverage, and answered questions about the bill's general impact.
Polls show Americans remain split in their opinion of Obama's health care effort, so the administration is trying to quiet voter doubts in advance of fall mid-term elections. Since many of the bill's major changes don't take effect for years, officials are highlighting those things that happen soon – such as the "doughnut hole" rebate – in their attempt to garner favorable public opinion.
"We're moving quickly and carefully to implement this law," Obama told the crowd at the Holiday Park Multipurpose Senior Center in suburban Wheaton.
---