Blanche Lincoln held on in Arkansas, but hears 'tea party' footsteps
Arkansas is ripe for 'tea party' activism to grow and target incumbent Sen. Blanche Lincoln – and perhaps even GOP Senate candidate John Boozman – in the November election.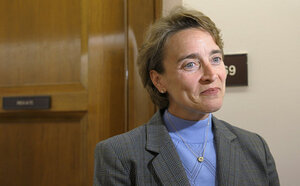 Susan Walsh/AP
Arkansas voters have already shown they ability to confound conventional wisdom. On Tuesday they chose vulnerable incumbent Sen. Blanche Lincoln as their Democratic nominee for US Senate, defying pundits that had her opponent, Lt. Gov. Bill Halter, as a virtual lock for the nomination.

Once again, conventional wisdom suggests Senator Lincoln has an uphill battle against Republican nominee, Rep. John Boozman. But the Arkansas "tea party" movement has yet to tip its hand.
It could target Lincoln. The state's tea party movement grew quickly last fall as anti-Lincoln sentiment swelled around health care reform. Former House majority leader and tea party enthusiast Dick Armey showed up at a December gathering to cheer on a "bye-bye Blanche" message.

But it could also target Congressman Boozman, the Republicans' establishment candidate, who avoided a runoff by winning 53 percent of the vote in his primary. Tea parties failed to organize around any of the eight candidates who ran in the Republican primary.

Both Boozman and Lincoln are moderate, middle-of-the-road candidates, says Jay Barth, a political science professor at Hendrix College in Conway, Ark. The tea party, at least nationally, trends toward more extreme political views.
---