Obama wants more money for Afghanistan war. Will Congress grant it?
Congress faces a formidable agenda this summer, but nothing is as wrenching as upcoming votes to fund new spending on the Afghanistan war.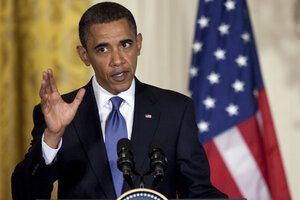 Evan Vucci/AP/File
Congress faces a formidable summer agenda on issues ranging from an overhaul of financial regulation to oversight of the Gulf oil spill. But nothing is as wrenching for the Democratic majority as upcoming votes to fund the surge of US forces in Afghanistan.
Most of the more than $1 trillion to fund the wars in Iraq and Afghanistan passed the Congress as "emergency" spending – that is, funded off-budget. In the Bush years, these were typically big, bipartisan votes, with Republican votes a given.
But this year, House Democrats may again have to find the votes for Afghanistan war spending in their own ranks – and in the shadow of highly volatile midterm elections.
"Some two-thirds of Democrats who supported the president in 2008 now oppose the president's Afghan policy," says former Rep. Tom Andrews (D) of Maine, national director of the Win Without War Coalition. "The base that was so important to victories in 2008 and 2006 [is] going to be critically needed in 2010 and may not be there."
---