Resolution on greenhouse gases fails, could boost energy bill
The Senate voted down a resolution Thursday that would have stripped the EPA of its authority to regulate greenhouse gases.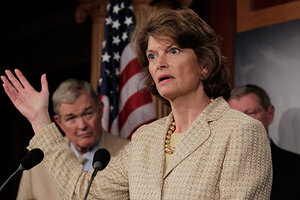 J. Scott Applewhite/AP
Democrats and environmentalists took satisfaction in the defeat in the US Senate Thursday of a resolution that would have stripped the Environmental Protection Agency of its authority to regulate greenhouse gases.
The defeat – 47 votes to 53 – was a boost for supporters of comprehensive energy-climate legislation. Sens. John Kerry (D) of Massachusetts and Joseph Lieberman (I) of Connecticut have floated such legislation, but it won't be considered until next month.
"The Senate made the right decision today but the big question is what comes now," Senators Kerry and Lieberman said in a joint statement. "Many supporters of the Murkowski resolution argued passionately that climate change is real but that addressing it is a job for Congress not the EPA. We hope they will now engage with us ...."
Environmentalists cheered the move, too.
---