Senate vote: Should EPA have authority to regulate greenhouse gases?
A resolution aims to stop the EPA's plan to start regulating greenhouse gases from the largest smokestack sources next year. The vote on it could signal the chances for an energy-climate bill.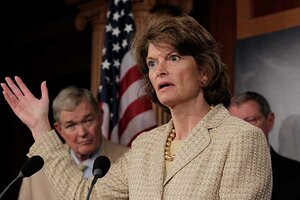 J. Scott Applewhite/AP
With oil bubbling in the Gulf of Mexico and US energy policy on hold, the US Senate plans to vote Thursday on whether to yank federal regulators' authority to clamp down on emissions of greenhouse gases.
President Obama had offered Congress what some dubbed a "carrot and stick" approach – the "carrot" being that lawmakers could regulate such emissions themselves in a comprehensive energy-climate bill, or else come up against a regulatory "stick" from the Environmental Protection Agency.
Despite passage of an energy-climate bill in the House of Representatives last year, the US Senate version has stalled. Yet looming like a locomotive on the tracks, the EPA says it will begin regulating carbon emissions from the largest smokestack sources next year.
IN PICTURES: Nuclear power around the world
EPA scientists formally concluded last year that carbon emissions were a danger to human health and the environment. Federal regulatory machinery began to clank forward – Mr. Obama's "stick."
---
Follow Stories Like This
Get the Monitor stories you care about delivered to your inbox.