Ted Kennedy and the lost notebook: FBI was watching him
FBI files on Sen. Ted Kennedy kept between 1961 and 1985 are full of death threats and clues to the senator's relationship with the FBI Director J. Edgar Hoover.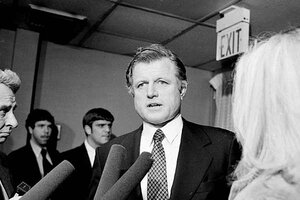 Barry Thumma/AP/File
Sen. Ted Kennedy's just-released FBI files are a fascinating window into the complex relationship between the nation's most famous family of Democrats and its most famous federal law enforcement agency.
During the era of Director J. Edgar Hoover, the FBI appeared to be keeping a wary eye on at least some of Senator Kennedy's political activities. At the same time, Director Hoover appears to have maintained a cordial personal relationship with Joseph P. Kennedy, Ted's father, as well as with young Ted himself.
The sad legacy of Kennedy assassinations was a major factor in the relationship, as well. The documents released Monday contain hundreds of pages of death threats against Sen. Kennedy collected by FBI informants or passed to the agency from local police.
These range from the apparently serious to the ephemeral. For instance, on July 24, 1968, a reporter for the Los Angeles Herald Examiner wrote Hoover a personal letter saying that in the course of researching stories on Extra Sensory Perception, the reporter had become convinced of ESP's validity.
Thus the journalist felt it necessary to privately inform Hoover that a top ESP psychic had predicted Ted Kennedy would be the target of a shooting at the upcoming Democratic Convention in Chicago.
---