New Obama-backed stimulus package fails in Senate vote
A dozen Senate Democrats joined Republicans in voting against a stimulus package that would add about $80 billion to the deficit. President Obama says it will save state and local jobs.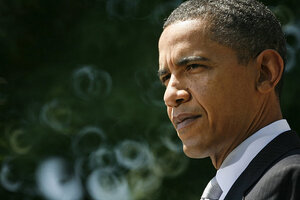 Charles Dharapak/AP
In a vote Wednesday, the US Senate showed a restrained appetite for more economic stimulus spending.
The vote was a procedural one, but it suggested that a stimulus package backed by President Obama couldn't pass without being scaled back in cost. It would have added an estimated $80 billion to the federal deficit over the next decade.
Supporters of the bill, which comes on top of other larger stimulus measures passed since 2008, aim to extend jobless benefits to the long-term unemployed, extend some business tax breaks, and provide aid to cash-strapped state governments.
A dozen Democrats voted with Republicans against the measure. With just 45 senators in support, it lacked a majority as well as the 60 votes needed to cut off a potential filibuster.
In recent days, Mr. Obama has been calling for Congress to pass legislation to protect jobs, warning that states could be forced into a round of layoffs, including school teachers. The president also supports $24 billion in aid to help states cope with rising Medicaid costs.
The debate over new stimulus comes as some economists worry that the economic recovery is still shaky. Most don't think the nation will dip back into recession, but a few forecasters call the odds as high as 50-50.
The calls for new federal support for the economy also coincide with a rapid rise in the federal debt – and growing concern in Congress that this poses its own risk to America's economic health.
---