In Waxman, BP execs face a master interrogator at Gulf oil spill hearing
Rep. Henry Waxman is a rare breed in Congress: an impeccable interrogator. He will be eager to question BP chief executive officer Tony Hayward about the Gulf oil spill Thursday.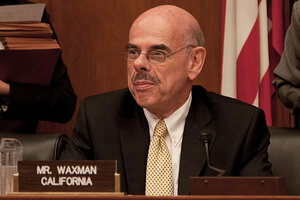 Jeff Malet/Newscom
For Rep. Henry Waxman (D) of California, Thursday's hearing with BP chief executive officer Tony Hayward offers an opportunity to do that which he does best – ask tough questions.
Best known for his 1994 hearings exposing the tobacco industry's claims that nicotine is not addictive, Representative Waxman was thwarted in confronting Big Oil during Republican control in the Bush years. Now, Congress's top watchdog is laying the groundwork for historic hearings that he hopes will change the political climate for energy legislation on Capitol Hill.
In an era when congressional hearings often do little more than vet competing views, Waxman questions corporate witnesses the old-fashioned way – with massive documentation. As chairman of the House Energy and Commerce Committee, Waxman released a 14-page letter to the BP chief executive Monday, laying out the results of the panel's initial investigation.
IN PICTURES: Companies that have paid big for environmental disasters
"Time after time, it appears that BP made decisions that increased the risk of a blowout to save the company time or expense," he wrote. "If this is what happened, BPs carelessness and complacency have inflicted a heavy toll on the Gulf, its inhabitants, and the workers on the rig."
---