Vexed by BP oil spill, Obama aims to show better news on jobs
Ending a week dominated by the BP oil spill, President Obama goes to Columbus, Ohio, to defend his $787 stimulus package and tout its jobs-producing effect.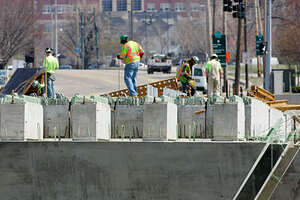 Mark Duncan/AP/File
Wrapping up a week dominated by the BP oil spill, President Obama on Friday aims to reassure the public that he isn't neglecting the US economy, traveling to Columbus, Ohio, to celebrate the start of the 10,000th road project under the Recovery and Reinvestment Act, aka the stimulus bill.
The trip is an occasion for the president to defend the Recovery Act, which many Republicans and some economists have criticized as getting too little bang for its 787 billion bucks. Mr. Obama is expected to point out that the federal stimulus will generate more jobs this summer than last, and he and his Democratic allies will cite these new jobs as bolstering their case for yet another economic stimulus package. At the very least, they hope to show voters that all those asphalt-laying crews and flag men have jobs because Washington cares.
"With the [Recovery] Act percolating along at the expected clip for well over a year now, I think a lot of folks assume that its impact is diminishing," said Jared Bernstein, Vice President Joe Biden's economic adviser, in a briefing Thursday. "In fact, the summer of 2010 is poised to be the most active season yet for the recovery, with thousands more projects under way across the nation this summer than last."
---