Who might be tapped to fill Senator Byrd's seat, fast?
Senate Democrats hope that West Virginia Gov. Joe Manchin will act quickly to replace Senator Byrd. With Byrd's death, they are two votes short of the 60 needed to move key legislation to a vote.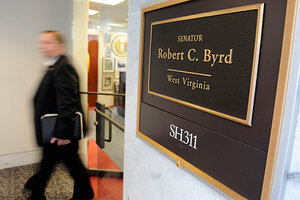 Jonathan Ernst /Reuters
No one, of course, can really replace Sen. Robert Byrd, the legendary West Virginia Democrat who died Monday after a record 57 years in Congress, 51 of them in the Senate.
But someone must fill his seat.
Senate Democrats hope that West Virginia's governor, fellow Democrat Joe Manchin, appoints a replacement quickly, as they need every possible vote to pass financial regulatory reform – and any other closely fought legislation that could come up between now and the end of the year. With the passing of Senator Byrd, the Democratic majority drops to 58-41. Sixty votes are needed to halt debate and move a bill to a vote.
IN PICTURES: Senator Robert Byrd through the years and top 10 longest-serving US senators
Under different circumstances, Governor Manchin's first choice could well have been ... himself. But voters don't take kindly to self-appointments. Ditto with family appointments, which probably rules out Manchin's wife, Gayle, who is active politically. The most likely scenario is that Manchin appoints a loyal caretaker who will not run for the job in his or her own right, leaving the path clear for the popular Manchin to run in 2012 when he is term-limited out of the state house.
---