CBO's math on budget deficit presents daunting choices for US
The gloomy outlook for the federal budget deficit, outlined by the CBO director Wednesday, comes as politicians and economists are arguing over what the US economy needs most: another jolt of government stimulus or sharp spending cuts.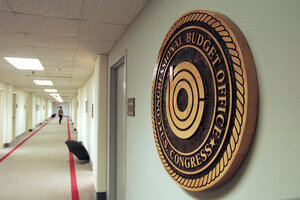 Andy Nelson/CSM/FILE
The top number-cruncher for Congress issued a blunt message Wednesday to a nation still struggling to recover from recession: Get ready to cut federal spending "sharply," to raise taxes, or both.
That's what it will take, said Congressional Budget Office Director Douglas Elmendorf, to avert an unsustainable rise of government debt that could otherwise hobble America's economic growth.
He released the CBO's latest report on the long-term outlook for federal finances at a sensitive moment in both economic and political terms. The recovery from recession so far has been tepid, and massive deficit spending has been central to the government's effort to lift the economy. Yet the national debt is now growing so rapidly that the leeway to undertake more deficit spending, without crimping the economy, may be diminishing.
These concerns are spilling over into a heated election-year battle, with Republicans pressing the case that runaway government spending is the economy's problem, not the solution. Mr. Elmendorf didn't say to cut spending or raise taxes immediately, but he also warned about the risks of waiting too long.
"The sooner that long-term changes to spending and revenues are agreed on, and the sooner they are carried out once the economic weakness ends, the smaller will be the damage to the economy from growing federal debt," Elmendorf wrote on the CBO website.
The stakes for ordinary Americans were illustrated in two charts in his report.
One chart showed a forecast that economic output per person will tend to rise under normal economic conditions (about 1.5 percent year), but would stagnate or even fall if rising government debt "crowds out" the ability of the private sector to make productivity-enhancing investments. In essence, Elmendorf and other CBO economists are warning that the debt poses a direct threat to economic growth and rising living standards.
---