Elena Kagan: Supreme Court nominee eases through GOP questioning
Supreme Court nominee Elena Kagan deftly handled her second day of questioning before the Senate Judiciary Committee and appears headed for confirmation.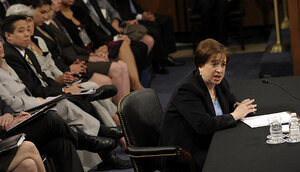 Susan Walsh/AP
Supreme Court nominee Elena Kagan endured her second full day of questioning at the Senate Judiciary Committee Wednesday, and she appears to be well on her way toward confirmation.
The Kagan hearings have been notable for their relative lack of significant controversy.
The solicitor general and former dean of Harvard Law School again faced repeated, close questioning about her decision in late 2004 to bar military recruiters from the law school's office of career services in what her critics say was defiance of the Solomon Amendment.
She has sought to reassure the senators that she does not harbor a secret agenda to push the court in one direction or another. And she has spent hours in the now familiar dance of high court nominees – the side-step shuffle – choosing her words carefully, saying just enough about her view of constitutional law to demonstrate understanding without telegraphing how she might vote in a future case.
Democrats attack some Roberts court decisions
The hearings have also been used by the Democratic majority as a platform to attack certain decisions by the Supreme Court under Chief Justice John Roberts. Democratic critics maintain the high court engaged in conservative judicial activism when it struck down part of a campaign finance law earlier this year. It was also the first case Kagan argued before the high court as solicitor general.
---