Is Obama a socialist? What does the evidence say?
Some critics cite government 'takeover' of business and 'giveaways' to the poor as signs that President Obama is a socialist. Members of the Socialist Party are among those who disagree.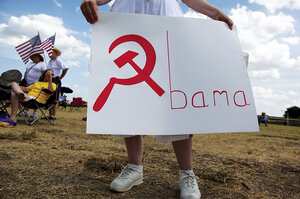 Jessica Rinaldi/Reuters/File
The assertion is getting louder: President Obama is a socialist, a wealth-redistributing wolf in Democrat's clothing gnawing at America's entrepreneurial spirit.
It's easy to buy "Obama is a socialist" bumper stickers on the Internet. Political commentator Dick Morris said, in a column circulated on GOPUSA.com, that conservatives are "enraged at Barack Obama's socialism and radicalism." Former House Speaker Newt Gingrich titled his new book "To Save America: Stopping Obama's Secular-Socialist Machine."
So, is Mr. Obama trying to form The Socialist Republic of America? Or are the accusations mainly a political weapon, meant to stick Obama with a label that is poison to many voters and thus make him a one-term president?
As is often the case in politics, the answer is in the eye of the beholder. Some people feel genuinely certain that Obama aims to make America into a workers' paradise – a land where government-appointed pay czars tell Wall Street tycoons how much they can make and where the feds take large ownership positions in companies like General Motors (GM) and insurance giant American International Group (AIG). Even if Obama is not a card-carrying Socialist, they say, he displays a disdain of the private sector.
---