Obama and recess appointments: He's not the only one to make them often
Recent presidents have made more recess appointments because of partisan gridlock in the Senate, where nominations are held up, analysts say. Obama has made 18 so far. Bush made 171 in his eight years in office.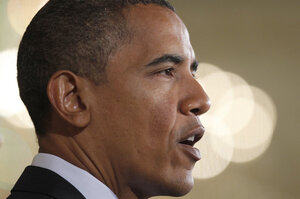 Pablo Martinez Monsivais/AP
President Obama's decision Wednesday to bypass the gridlocked Senate to fill key administration posts follows a pattern of rising use of recess appointments by recent US chief executives.
By acting while Congress is in recess, Mr. Obama skirted the Senate's usual advise and consent role for appointees, angering the minority Republicans. They object in particular to the president's choice of Donald Berwick, a Harvard pediatrician and founder of the Institute for Healthcare Improvement, to head of the Centers for Medicare and Medicaid Services. Republicans had criticized Dr. Berwick's nomination since April, citing his support for government-run health care.
The increased presidential use of recess appointments bears a direct correlation to political polarization in Congress – and willingness of the minority party to filibuster to delay or deny confirmations, says Thomas Mann, a senior fellow at the Brookings Institute. He expects that trend to continue.
---