Why Obama tapped Jacob Lew as new budget director
If confirmed, Jacob Lew will replace Peter Orszag, the highest-level Obama administration departure yet. Mr. Lew also served as budget director under President Clinton.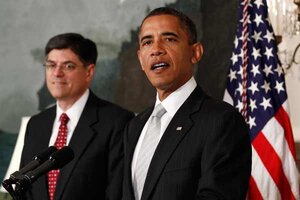 Jim Young/Reuters
President Obama has nominated Jacob Lew, budget director in the last three years of President Clinton's tenure, to return to his old job.
If confirmed as expected, Mr. Lew will replace the outgoing director of the Office of Management and Budget (OMB), Peter Orszag, the highest-level departure from the Obama administration thus far. Mr. Orszag leaves his post later this month.
In announcing the selection of Lew on Tuesday, Obama touted the strong economy over which he presided, particularly the budget surplus.
"If there was a hall of fame for budget directors, then Jack Lew surely would have earned a place for his service in that role under President Clinton, when he helped balance the federal budget after years of deficits," Obama said in his midday announcement at the White House. "When Jack left that post at the end of the Clinton administration, he handed the next administration a record $236-billion budget surplus."
Lew walks into starkly different circumstances. Even though the nation is technically out of recession, unemployment appears stuck at near 10 percent and the Treasury is spilling red ink. For the first nine months of the current fiscal year, which began Oct. 1, the deficit stood at $1 trillion. According to a Congressional Budget Office report released in June, the national debt – currently more than $13 trillion – is projected to rise to 62 percent of gross domestic product, up from 40 percent at the end of 2008.
---