Congress turns to task of preventing another Gulf oil spill
Members of a House committee on Wednesday began shaping a bill that targets the problems laid bare by the Gulf oil spill, from lax regulation to inadequate accident-response plans.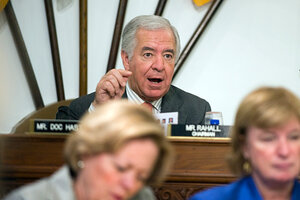 Roll Call/Newscom
The first outlines of a new law intended to fix the problems that led to the Gulf oil spill are now taking shape in Congress.
Amid an election-year rush to finalize and vote on major oil spill legislation before the fall elections, the Democratic leadership is pushing hard to get an oil-spill bill out of committees and onto the floor of the House of Representatives for a vote, hopefully before the August recess.
While the bill is far from finished, one thing seems clear: Everyone from oil companies to regulators are going to have to toe a tougher line. For the oil industry, winning the right to drill for oil offshore is going to get a lot tougher, by all appearances. And federal regulators will be subject to new checks and balances to ensure transparency and competence.
The House Natural Resources Committee on Wednesday began weighing as many as 200 amendments to a bill that would reorganize offshore energy leasing on the continental shelf. While still just a draft, the bill reflects the direction of the committee and its chairman, including measures that would:
Abolish the Minerals Management Service (MMS), dividing its functions among three new entities in order to keep enforcement sharp and prevent the buildup of a "cozy" relationship between regulators and the regulated. One bureau would manage leasing and permitting of offshore and onshore oil and gas and renewable energy-related activities, including environmental studies. A second would conduct all inspections and investigations, and issue health, safety, and environmental regulations. The last would collect energy-related revenues.
Ensure that only qualified people become oil and gas inspectors, including training them at a federal academy to strict new ethical standards.
Prevent oil companies from getting the sort of sweeping exemptions from environmental review that past offshore drilling operations won under the now-defunct Minerals Management Service. The bill, for instance, would eliminate the use of "categorical exclusions" from the National Environmental Policy Act that were routinely used by the now-defunct Mineral Management Service.
---