Is stimulus plan working? The arguments pro and con.
A white House report released Wednesday said the stimulus plan has saved or created as many as 3.6 million jobs. But polls show Americans are skeptical.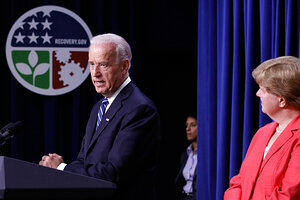 Haraz N. Ghanbari/AP
The Obama administration said in a report Wednesday that its stimulus plan is working to bolster economy, but Republicans fired back that Americans aren't feeling what Vice President Joe Biden calls a "summer of recovery."
"The Recovery Act has played an essential role in changing the trajectory of the economy," concluded the report, a quarterly assessment prepared by the White House's Council of Economic Advisers. "It has raised the level of GDP substantially relative to what it otherwise would have been and has saved or created between 2.5 and 3.6 million jobs as of the second quarter of 2010."
Mr. Biden, named by President Obama to lead implementation of the act, unveiled the report in a morning appearance.
Many Americans are skeptical about whether the American Reinvestment and Recovery Act of 2009 is really helping. In a CBS News poll this week, 56 percent of respondents said the stimulus hasn't had an impact on the economy, and 18 percent said it has made things worse. Just 23 percent said it has made the economy better.
And, in a shift since April, the CBS poll found that, when asked to choose between two options, slightly more Americans (47 percent) favor reducing the federal deficit than spending more federal money to create jobs (46 percent). Three months ago the poll found 42 percent opting for deficit reduction and 50 percent for spending on jobs.
---