GOP's jobs ideas: Keep Bush tax cuts, freeze regulations
Employers won't create jobs until they have a clear sense of what comes next in taxes and regulation, say Republicans. House GOP leader John Boehner proposes a moratorium on new government regulations for a year and keeping the Bush tax cuts.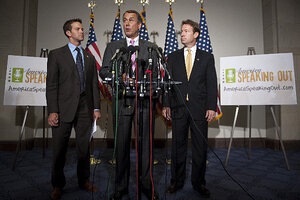 Newscom
As President Obama prepares to sign the second historic reform bill of his administration – health care in March, finance reform next week – Republicans are offering their own answers to why jobs have not recovered and enlisting business groups to help make their case.
Above all, employers need something they're not getting from Washington these days, Republicans say, that is, reasonable expectations about what's coming next in taxes and government regulation.
All of the antibusiness rhetoric coming out of Washington scares employers, said House Republican leader John Boehner, after meeting with 16 business groups in the Capitol Friday morning. It's also not knowing whether the 2001 and 2003 Bush tax cuts will be allowed to expire on Dec. 31, as mandated by current law, or how the new employer mandates on health care or financial regulation will affect their business, he adds.
"It's clear that the path we've been on the last 18 months has not worked and is not working," said Mr. Boehner at a briefing with reporters. These are the barriers to job creation, and if the Obama administration is serious about private-sector job creation, it needs to listen to the private sector, he added.
---