Off to Bar Harbor, Maine, Obama ends week on an up note
Obama – and the Democrats – may well feel buoyed by better news about the Gulf oil spill, Senate passage of financial reform, and latest poll numbers for vulnerable Sen. Harry Reid. The president now gets a weekend away, in Bar Harbor, Maine.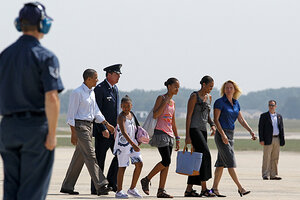 Haraz N. Ghanbari/AP
President Obama may well feel he has earned his weekend away with the family in Bar Harbor, Maine.
A containment cap on BP's blown-out well in the Gulf of Mexico has finally stopped the gushing oil. Sweeping financial reform gained final Senate passage Thursday and is ready for Mr. Obama's signature next Wednesday. The Democrats are about to get a temporary replacement for the late Sen. Robert Byrd (D) of West Virginia, which will put in place the crucial 60th Senate vote needed to pass an extension of unemployment insurance. That vote is expected next Tuesday.
Obama was feeling so good Friday morning that he took six questions from the press (after offering "just one or two") following a statement on the capped BP well before taking off for Maine. Obama is typically fairly tight-lipped with reporters.
---