Next up on unfinished Senate agenda: unemployment insurance
Once Democrat Carte Goodwin is sworn in Tuesday to replace the late Sen. Robert Byrd, Senate Democrats will have the votes to try again to extend unemployment insurance to the jobless.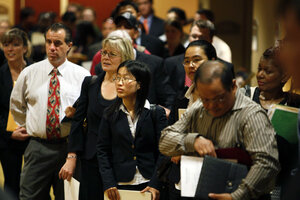 Eric Risberg/AP Photo
For congressional Democrats – especially in the often-gridlocked US Senate – this week marks a sprint to wind up a large, unfinished agenda in time to sway midterm elections.
Big-ticket items range from energy and campaign-finance reform to decisions over expiring Bush-era tax cuts, war funding, and 12 spending bills for fiscal year 2011, which begins Oct. 1. On Tuesday, the Senate Judiciary Committee votes on the confirmation of Elena Kagan to the US Supreme Court, with a full Senate vote expected later in the week.
With the swearing-in on Tuesday of Democrat Carte Goodwin to fill the seat of the late Sen. Robert Byrd of West Virginia, Democrats say they have the 60th vote needed to break a Republican filibuster and approve a long-stalled $34 billion extension of unemployment benefits.
Highlighting the unfinished Senate agenda in his weekly address on Saturday, President Obama charged Republicans with "filibustering the nation's economic recovery" and making a stand "on the backs of the unemployed." Most Senate Republicans oppose the measure on the grounds that Democrats have not identified offsetting spending cuts to pay for it.
---