James Clapper headed for hot seat in spy chief hearing
President Obama's nominee for Director of National Intelligence, retired Air Force Lt. Gen. James Clapper, is expected to face a tough Senate confirmation hearing Tuesday.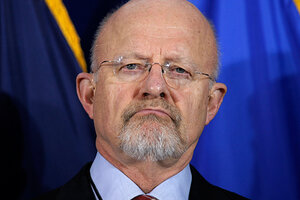 J. Scott Applewhite/AP/File
Top Pentagon intelligence chief Lt. Gen. James Clapper is stepping into a whirl of controversy today as he appears before a Senate panel for confirmation as the fourth Director of National Intelligence (DNI) in just over five years.
The rapid turnover in the job, created by Congress in response to 9/11, is only one indicator of how hard it is to impose unity of effort on the vast US intelligence community that includes 16 agencies, some 100,000 employees, and some of the toughest turf battles in Washington.
The last DNI, retired Adm. Dennis Blair, was forced out after unusually public clashes with CIA Director Leon Panetta and White House counterterrorism chief John Brennan.
At the same time, Congress is gridlocked over its own national intelligence strategy. On Monday, the Senate Intelligence Committee unanimously approved a long-delayed intelligence authorization bill for fiscal year 2010. The new draft reflects 10 months of negotiation with the Obama White House over failures to keep Congress informed about "significant undertakings" in covert action programs. Under the terms of the draft law, each intelligence agency must certify annually that they are in compliance with all requirements to notify Congress.
---