Financial reform law: What's in it and how does it work?
President Obama signed a sweeping financial reform bill into law Wednesday giving the federal government new powers to regulate Wall Street.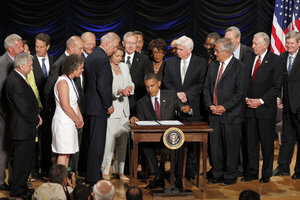 Charles Dharapak/AP
The financial reform bill signed into law by President Obama Wednesday constitutes a sweeping attempt to reallocate power from Wall Street to Washington and prevent future financial crises.
Will it work?
The full answer to that question won't be known for years to come. Some critics say the new law just creates unnecessary bureaucracy and ignores the federal government's own role in the recent financial crisis. Others say it doesn't go far enough – that it should have done more to break up huge banks, for instance, to address the problem of firms that become too big to fail.
Other analysts feel that it is a good start, and that it will at least soften the impact of any future monetary meltdown.
"In my view, the bill, plus upcoming regulatory actions, will get us two-thirds the way to where we should be, which is a major improvement on our current situation," writes Douglass Elliott, a fellow in economic studies at the Brookings Institution in Washington.
It's true that the bill will make loans a little more costly, and a little harder to obtain, according to Mr. Elliott. Economic growth in future years will be a bit slower as a result.
"This is a trade-off worth making, because the real benefit will be from avoiding the severe economic damage that comes in crisis years," he writes.
What's in the bill? Here are some of its major provisions:
• New consumer watchdog. The bill establishes a Consumer Financial Protection Bureau within the Federal Reserve. This agency will enforce existing consumer-oriented regulations that apply to big financial firms, mortgage-related businesses, and payday and student lenders. It will also ensure that the fine print on financial services is clear and accurate, and will maintain a single toll-free hotline for consumers to report possibly deceptive practices.
---