Charles Rangel charged with ethics violations: How bad for Democrats?
Charles Rangel, a Democratic congressman from New York, faces a House trial in which eight members will rule on the findings. Democrats will be concerned about its effect on midterms.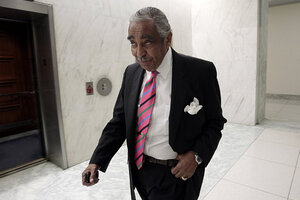 Hyungwon Kang/Reuters
Members of a House panel on Thursday charged Rep. Charles Rangel (D) of New York with violating a list of House ethics rules.
The subject of an 18-month investigation, Representative Rangel – a 40-year member of Congress and the House's fourth most-senior member – now faces a House trial in which eight members (four Democrats and four Republicans) will rule on the findings.
The four-member panel of the House ethics committee did not lay out the alleged violations in detail. But they are reported to include at least some of the most serious.
IN PICTURES: Ethically challenged Congressmen
The allegations range from misuse of rent-controlled apartments in New York City and failure to disclose income from a villa in the Dominican Republic to reports that he exchanged official favors – a tax loophole for oil driller Nabors Industries Ltd. – in exchange for a $1 million gift to the Charles Rangel Center at City College of New York.
Last year, Republicans failed to force Rangel to step down as chairman of the influential tax-writing Ways and Means Committee. But when the House ethics panel reported that Rangel had violated House gift rules by accepting corporate funding for trips to the Caribbean, he relinquished his committee chairmanship in March.
---