JournoList: Isolated case or the tip of the iceberg?
Some of the liberal reporters in the JournoList online discussion group suggested that political biases should shape news coverage. Is the principle of journalistic impartiality disappearing?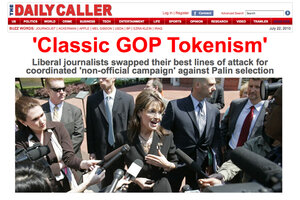 Reporters fantasizing about ramming conservatives through plate glass windows or gleefully watching Rush Limbaugh perish: Welcome to the wild and wooly new world of journalism courtesy of the JournoList.
A conservative website, the Daily Caller, has begun publishing some of the 25,000 entries by 400 left-leaning journalists who were a part of the online community known as JournoList. In these entries, reporters and media types debate the news of the day, often in intemperate and unguarded terms – like now-former Washington Post reporter David Weigel's suggestion that conservative webmeister Matt Drudge "set himself on fire."
Another suggested that members of the group label some Barack Obama as critics racists in their reporting.
It is possible, perhaps probable, that the fedora-coiffed journalists of old might have entertained similar thoughts about political characters of the day. But JournoList raises the question of how thoroughly the tone and character of the no-holds-barred blogosphere are reshaping the mainstream media.
---