After the Shirley Sherrod furor, a pivot on racial entitlement?
The US Department of Agriculture, from which Shirley Sherrod was fired for appearing to discriminate, stood at the forefront of institutional racism for decades. The question of whether America has righted historical wrongs against blacks ignites today's heated race debate.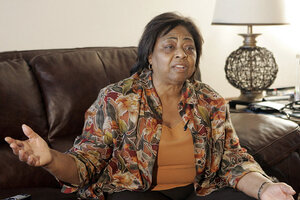 Steve Cannon/AP
Bubbling beneath the Shirley Sherrod furor is a debate that many Americans are itching to have, but aren't quite sure how to bring up in polite company: The fairness of minority preferences and entitlements.

That Ms. Sherrod, who is black, could be fired for making a racist statement – a false charge, as it turned out – seemed to many Americans to show a new willingness by the Obama administration to acknowledge that racism isn't just a problem for the white community. That it happened to an employee of the Department of Agriculture, which recently approved a $1.2 billion settlement for black farmers who faced decades of discrimination, only seemed to drive home that point.

While officials now say that Sherrod's forced resignation was too hasty – in fact, Obama apologized personally to Sherrod and she has been offered another job – the episode gave Americans an opportunity to discuss the substance of the point she was trying to make in the much-publicized March speech to an NAACP dinner in Douglas, Ga.: Whether race should still play a role in federal and state policy and politics.

As such, the Sherrod case embodies the race debate in both personal and institutional terms. It raises questions for many liberals about the state of racism on the political right and questions from many white Americans about when the post-Civil Rights era of minority preferences and entitlements will end.
'No parallel in our history'
---