Obama, Boehner turn up the partisan rhetoric
President Obama and House Minority Leader John Boehner blasted each other Saturday. As the November elections approach, partisan rhetorical sniping can be expected to escalate, especially on the economy.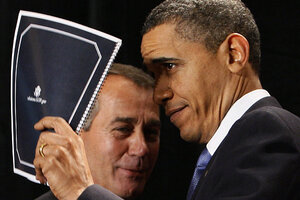 Charles Dharapak/AP/File
Well into his second year in the White House, President Obama would seem to be past the expiration date on getting away with blaming the Bush administration for the nation's current economic troubles.
But in his radio-Internet address Saturday, he did just that – at least indirectly. And in a sure sign that any bipartisanship is long since dead, House Minority Leader John Boehner (R) of Ohio fired back Saturday morning with a partisan blast of his own.
Laying out his administration's policies and programs, Obama insisted that "we are moving forward." And taking a dig at GOP proposals, he added, "What we can't afford right now is to go back to the same ideas that created this mess in the first place."
It was the second week in a row that Obama went after GOP lawmakers. Last week, it was for "stalling tactics" to avoid an up-or-down vote on unemployment insurance and other proposals to boost the economy.
Earlier this month, Boehner and House Republican Whip Eric Cantor sent Obama a letter in which they reiterated the GOP's "no cost jobs plan" first detailed last December, which focuses on business taxes and regulation.
Although the tone of Boehner's and Cantor's letter was polite and they said "Republicans stand ready to work with you and your administration," Obama is having none of it – particularly the push to keep the Bush tax cuts in place and repeal health insurance reform. Boehner also has endorsed a one-year moratorium on all new government regulations.
---