Senate Democrats forced to accept much slimmer energy bill
Without enough votes, Senate Majority Leader Harry Reid has been forced to abandon a comprehensive energy bill. Gone is any tough climate provision. Will the House buy it?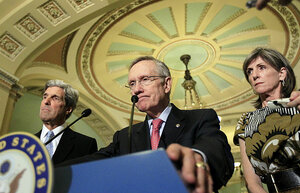 Alex Brandon/AP
The US Senate late Friday was poised to move ahead with a vastly slimmed down energy bill, minus the much fought-over climate provision that would have capped carbon dioxide and other greenhouse gas emissions – in addition to boosting renewable energy.
Senate Majority Leader Harry Reid (D) of Nevada was prepared to move after Democrats abandoned their efforts Thursday to pass a comprehensive climate-energy bill that would have for the first time put a price on greenhouse gases from power plants and other industrial smokestacks. The new bill, some who saw drafts of it say, appeared to be a mere shadow of the old.
In it, Mr. Reid has cobbled together a few pieces of legislation widely embraced by Democrats, which some analysts said would make it possible for him to introduce and get voted on this coming week. It remains to be seen, however, whether the House of Representatives will accept the new bill, which is drastically different from the comprehensive climate-energy bill passed by the House last year.
Reid's bill does not put a price on carbon emissions, or mandate a percentage of renewable energy, or provide debt financing for clean energy, or subsidize electric vehicles, writes Kevin Book, energy analyst with ClearView Energy Partners, a Washington energy market research firm in a snap analysis of the bill. It also does not open new areas to offshore drilling.
---