Cities' plea: We need $75 billion or we'll lay off 500,000
City and county officials said Tuesday that they will face massive layoffs unless Congress passes the $75 billion Local Jobs for America Act. But the bill's prospects look dim.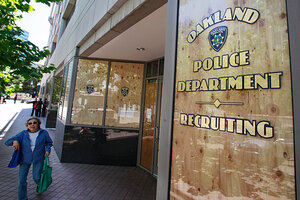 Paul Sakuma/AP
Municipal and county leaders have a message for Congress: Send us money or we'll have to lay off more workers, close more libraries, and tighten our belts even further.
Without any additional federal aid, job losses for the current fiscal year and next year could total as much as 500,000, according to a new survey released on Tuesday by the United States Conference of Mayors, which represents cities and counties.
Local officials say they are eliminating entire classes for police academies, closing public parks, and increasing class sizes as teachers get laid off. The reductions come at a time when demands for social services are increasing because of the high unemployment rate.
To prevent layoffs, the mayors and county commissioners are asking Congress to pass the Local Jobs for America Act, which would funnel about $75 billion in direct aid to areas that have high poverty rates.
"It's vital to the survival of cities and towns throughout this country," said James Mitchell, a city council member from Charlotte, N.C., and a vice president at the National League of Cities, in a telephone press briefing.
The ultimatum sets up a summer of drama for cities and counties, largely because the legislation "does not stand a chance in the Senate," says Chris Edwards, an analyst with the libertarian Cato Institute in Washington.
---