Offshore drilling moratorium: good for the Gulf, bad for the economy?
The federal government enacted a six-month moratorium on offshore drilling in deep waters in the wake of the Gulf oil spill. Depending on who you ask, it is either an environmental necessity or an economic disaster.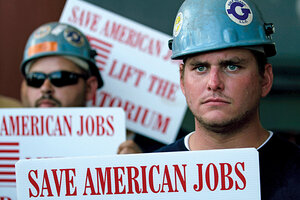 Gregory Bull/AP/File
More than three months after the Deepwater Horizon oil spill began, Gulf Coast states and the oil industry are still howling over what they say is unnecessary economic harm from the Obama administration's six-month moratorium on deep-water offshore drilling.
Congressional opponents argue it "is causing a second economic crisis in the Gulf" and that "thousands of jobs have already been lost and thousands of additional jobs are at risk of being sent overseas." The Senate Small Business and Entrepreneurship Committee heard testimony Tuesday predicting losses of $2.8 billion and over 10,000 jobs from a moratorium.
But new deep-water drilling would still be dangerous and irresponsible, the administration says. Not enough is known about what caused the spill and several panels are investigating.
IN PICTURES: Destructive Oil Spills
Amid a whirlwind of charges, countercharges, and legal hardball, numerous questions linger. Among them:
Is a drilling moratorium now in effect? Where?
---