Senate derails campaign finance bill ahead of 2010 elections
Senate Republicans blocked a Democratic campaign finance bill Tuesday, leaving corporations free to spend as much as they want on political ads ahead of the 2010 elections this November.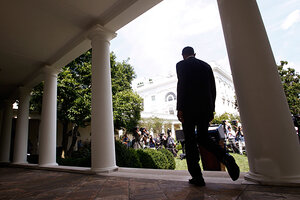 Charles Dharapak/AP
Midterm elections loomed large as the Senate derailed a campaign-finance bill this year on straight party lines.
Changing the rules of the political game is always a heavy lift on Capitol Hill, but especially in a highly volatile election season that could flip control of the Congress. Not even a controversial Supreme Court ruling earlier this term, which paved the way for unlimited corporate or union spending in ads for or against a candidate, could bring a measure of consensus to the Senate.
The proposed law would have required that chief executives appear at the end of political ads, claiming responsibility for the material. The law also would have banned foreign corporations or governments, large government contractors, and federal bailout recipients from spending money in US elections.
"It is incredible that we now have to struggle to find a supermajority – 60 senators – even just to debate a bill whose principles both parties once supported and that 9 in 10 Americans want us to pass," said Senate majority leader Harry Reid during Tuesday afternoon's floor debate.
The measure failed 57 to 41 – essentially falling one vote short of 60 given that Sen. Joseph Lieberman (I) of Connecticut, a supporter, was absent and Senator Reid switched his vote to no to keep the option of bringing it back at a later date.
---