How did Sharron Angle blow an 11-point lead on Harry Reid in seven weeks?
Polls suggest Sen. Harry Reid is now ahead of GOP challenger and 'tea party' favorite Sharron Angle. The GOP is sending reinforcements to beef up Angle's campaign staff.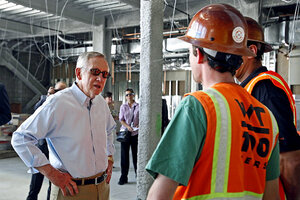 Louie Traub/AP
Just a few weeks ago, Senate majority leader Harry Reid seemed headed for political flameout.
Nevadans were down on their senior senator, according to the polls. The "tea party" movement was zeroing in on him as representative of all that's wrong with big-government politics back in Washington. And it looked like any of his likely GOP opponents could beat the four-term incumbent in November.
Shortly after Nevada Republicans chose former state assemblywoman Sharron Angle to run against Reid, the beleaguered Democrat was trailing his opponent by 11 percentage points in a Rasmussen Reports poll of likely Nevada voters.
But things can change in a hurry.
Reid has moved ahead of Ms. Angle in the polls – by as much as seven points in the latest Mason-Dixon Polling & Research survey for the Las Vegas Review-Journal. The Angle campaign – with help from an increasingly worried national party – is having to beef up its campaign staff with outside professionals. And Angle is scrambling to change the subject regarding her earlier controversial positions and assertions.
---