Sarah Palin anoints a new 'mama grizzly': Does it make a difference?
Sarah Palin endorsed Wyoming State Auditor Rita Meyer as a 'mama grizzly' Thursday. The Wyoming gubernatorial candidate joins Palin's growing sisterhood of conservative feminists.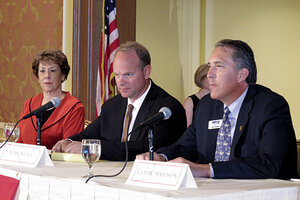 Matt Joyce/AP
Sarah Palin has clearly hit on a successful formula: The former Alaska governor endorses a conservative woman candidate, anoints her a "mama grizzly," and watches the headlines roll in.
Several of these women have gone on to win their primaries. Two have lost. Many more still face primaries. But even if the power of a single endorsement remains debatable, there's no doubt when Ms. Palin is the endorser that it gives the candidate a shot of free publicity and builds Palin's reputation as a kingmaker.
Before Thursday, who outside of Wyoming (or even inside) had heard of State Auditor Rita Meyer, one of several Republicans running for their party's gubernatorial nomination? Now, following Palin's Facebook endorsement late Thursday, we know that Ms. Meyer is a combat veteran of both Iraq and Afghanistan, and has served 23 years in the Wyoming Air National Guard, now as a colonel. She has, Palin asserted, "a unique blend of steel magnolia and mama grizzly."
---