Missouri voters could rebel against Obama's health-care reform law
The first chance for voters to weigh-in on Obama health-care reform comes Tuesday, as Missourians decide whether to ban the 'individual mandate' requiring those without medical insurance to buy it.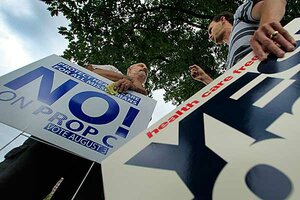 Charlie Riedel/AP
Congress has had its opportunity to vote on health care reform. Now, at least in Missouri, it's the people's turn.
In a ballot-measure vote Tuesday, Missourians will make a yes-or-no choice on a central plank of the reforms signed into law by President Obama earlier this year – a mandate that individuals who don't have health insurance must purchase it.
The vote presents what some political analysts say is the first moment when voters in any state will take what amounts to referendum on Mr. Obama's approach to health-care reform. "Proposition C," if passed, would ban enforcement of the individual mandate within Missouri.
It won't represent a scientific sampling of public opinion in the "Show-me State," which is often a closely-fought swing state in presidential elections. (The vote comes on a primary election day, when turnout is often light, especially among voters not closely attached to a party.) And the anti-Obama measure, if passed, would have an uphill battle in court.
But its passage would add to a perception that the medical-insurance reforms face significant opposition, which hasn't died down just because the ink has dried on a presidential signature.
Tuesday's vote comes as national polls show weak support for the reforms, as Republicans are seeking to leverage the issue to their advantage in fall congressional elections, and as some other states are preparing to take similar symbolic votes on the Obama reforms this fall.
---