Obama lauds Ford's bid to boost auto exports, including 2011 Explorer
Obama, at a Ford plant in Chicago on Thursday, said the automaker's plan to increase auto exports fits with his aim of doubling sales of American products abroad over the next five years. The plant will produce a more fuel-efficient 2011 Explorer for foreign buyers.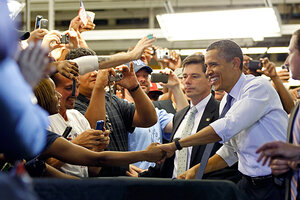 Jason Reed/Reuters
President Obama defended the government bailout of the US auto industry during a visit Thursday to a Ford Motor Co. plant here, noting that his plan to rebuild the US economy by doubling exports over the next five years requires a strong domestic auto industry able to compete for trade in the global marketplace.
Ford's plant on Chicago's South Side, which will make cars and trucks to be sold in Canada and Mexico next year, is considered a model effort to boost sales abroad. Ford accepted no government bailout money in 2009, as the US automakers struggled to stay afloat amid the Great Recession, but Mr. Obama Thursday announced the company will receive a $250 million loan guarantee from US Export-Import bank to finance more than 200,000 vehicles.
The production increase means 1,200 new jobs at the plant, which is starting to build a smaller version of the Ford Explorer that is likely to be more appealing to foreign buyers.
---