As Senate breaks for recess, House seethes over unfinished business
The House sent 350 bills to the Senate – some after hard votes on controversial issues – that are now unlikely to see the light of day. Why that unfinished business upsets some House Democrats.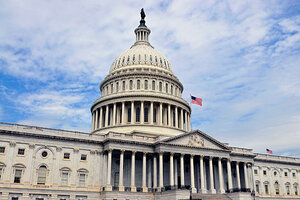 Newscom/File
With sweeping overhauls of health care and financial regulation, along with a $787 billion emergency stimulus package, the 111th Congress ranks among the most productive Congresses ever – on big-ticket items.
And though senators chalked up a few more accomplishments in the hours leading up to their August recess, they still left town with some 350 bills passed by the House awaiting their attention. For most, action will never come – a reality that has some House members grinding their teeth more than usual this election year.
The tension is perennial between two bodies with very different rules and precedents: The House gives strong powers to the majority; Senate procedures protect minority rights. House members routinely refer to the Senate as the place where bills go to die. But House Democrats who lately voted for controversial measures – among them a broad climate change bill and campaign finance reform to require disclosure of now-unlimited corporate spending – worry they could pay a price for those votes in midterm elections. Many members see them as wasted votes, because the bills were never taken up in the Senate.
"The tension between this House and Senate is enormous," says Julian Zelizer, a congressional historian at Princeton University in New Jersey. "There is a sense in the House that they have delivered almost everything this president has asked for, including votes that are extremely controversial."
---