Maxine Waters maintains innocence as House outlines ethics violations
The House ethics committee released formal charges Monday against Rep. Maxine Waters, a California Democrat, that claim she improperly helped a bank in which her husband owned stock receive federal funds.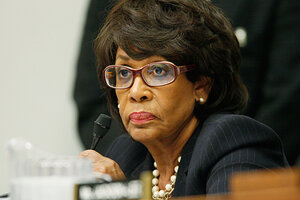 Charles Dharapak/AP/File
The House ethics committee released its formal charges against Rep. Maxine Waters (D) of California Monday, opening the door to a trial before the panel this fall.
Representative Waters and Mikael Moore, her grandson and chief of staff, are accused of improperly intervening in dealings between OneUnited, a minority-owned bank in which Waters's husband owned stock, and the federal government.
The charges laid out in the 10-page "statement of alleged violation" say that by allowing Mr. Moore to help OneUnited obtain a meeting with the Treasury department that led to $12 million in bailout funds, Waters violated House rules that say members:
"Shall behave at all times in a manner that shall reflect creditably on the House."
"May not receive compensation and may not permit compensation to accrue to the beneficial interest of such individual from any source, the receipt of which would occur by virtue of influence improperly exerted from the position of such individual in Congress."
---