Rep. Charles Rangel vows to fight ethics trial: 'I'm not going away'
The House ethics panel has outlined 13 charges against Rep. Charles Rangel (D) of New York. But the 20-term lawmaker gave a defiant, off-the-cuff speech Tuesday.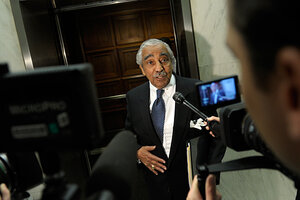 Susan Walsh/AP
Rep. Charles Rangel (D) of New York took to the House floor today to set the record straight: Would he quietly step down rather than face a public corruption trial on the eve of midterm elections that could topple his party's House majority?
The answer, emphatically, is no.
"If I were you, I would want me to go away too. I'm not going away," said the 20-term Harlem lawmaker, in a surprise, emotional speech that kept House members riveted to their seats, even as they missed their afternoon plane reservations home.
Democratic leaders called the House back into session today to pass a $26 billion emergency aid package for teachers and state workers, as well as a $600 million measure to beef up security along the US-Mexican border. But Congressman Rangel told colleagues that his situation, too, constituted an emergency. After two years of investigation by the House ethics panel, Rangel said that he deserved a quick resolution to the charges against him.
"This has to stop sometime," he said. "If I can't get my dignity back here, then fire your best shot at getting rid of me through expulsion."
---