Ground Zero mosque comments: Did Obama have to say anything?
Ground Zero mosque comments show that Barack Obama the president has proven less disciplined and on message than Obama the candidate.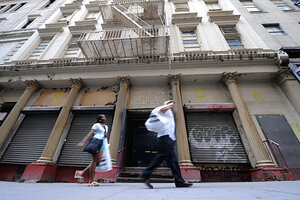 Louis Lanzano/AP
During the 2008 presidential race, the Obama campaign was disciplined and on message.
Now, a year and a half into their administration, President Obama and his White House team are struggling to steer public discourse toward the issues that most concern voters – namely, jobs and the economy. And many of the wounds seem to be self-inflicted.
Most recently, Mr. Obama unleashed a torrent of debate over the plan for an Islamic community center and mosque near Ground Zero with his statement Friday defending the plan, and a follow-up comment on Saturday in which he said he was not commenting on the "wisdom" of the center – just the landowners' right to use the land that way.
So much for the Democrats' plan for a weekend of focus on the future of Social Security, whose 75th birthday was Saturday and which Democrats say Republicans want to privatize. Or Obama's plan, while visiting the Florida Gulf Coast last weekend, to focus on the progress made over the BP oil spill.
On Monday, as Obama launched a three-day, five-state campaign and fundraising swing for Democrats, the mosque was still the talk of cable TV – and a focus of reporters' questions Monday on Air Force One.
---