On Obama vacation, the job tags along
President Obama's vacation to Martha's Vineyard won't be your traditional vacation, if history is any guide. Events have a way of interfering with Obama's rare downtime.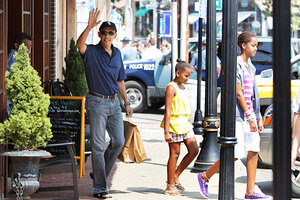 Carolyn Kaster/AP
Imagine: You're ready for a well-earned end-of-summer break, some golf, a dip in the ocean, ice cream with the kids. And oh by the way, you'll be taking a bunch of people from the office with you.
That's what President Obama faces as he begins his 10-day vacation on Martha's Vineyard. Top aide Valerie Jarrett is there, though since she's an old friend from Chicago, maybe having her along doesn't totally count as "office." Plus, she has her own place on the island. (The Obamas are renting the same digs as last year, Blue Heron Farm, at their own expense.)
But Jarrett isn't the only White House staffer who tagged along with the president. Pete Rouse, another senior adviser known for his low-key problem-solving, came along as well. Ditto Homeland Security Adviser John Brennan. Denis McDonough, the National Security Council chief of staff, is also going to "show up at some point to help out," per deputy White House press secretary Bill Burton, who is there doing the honors with regular briefings.
---
Follow Stories Like This
Get the Monitor stories you care about delivered to your inbox.